Hello! My name is Izzy and I am so delighted to be an Assistant Teacher at Asheville Montessori School.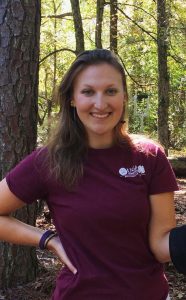 I am a Chicago native and have also lived in Georgia, Wisconsin and New Zealand! I studied Environmental Studies and Psychology at Illinois Wesleyan University. I have spent the past few years working in environmental education where I inspired children to connect with the beauty of the natural world. While living in Wisconsin, I had the privilege of working at a nature-based Montessori outdoor classroom, leading students and teachers on multi-day, immersive outdoor experiences. I instantly fell in love with the Montessori method and felt so inspired by how peaceful, curious and independent the students were.
Upon moving to the beautiful mountains of Western North Carolina, I found the loving AMS community and knew that I was in the right place. I am so excited to learn and grow alongside your children at Asheville Montessori School.
In my free time I enjoy backpacking, needlepoint crafts, yoga & meditation, volunteering, running, cooking, and exploring all of the beautiful coffee shops in Asheville!